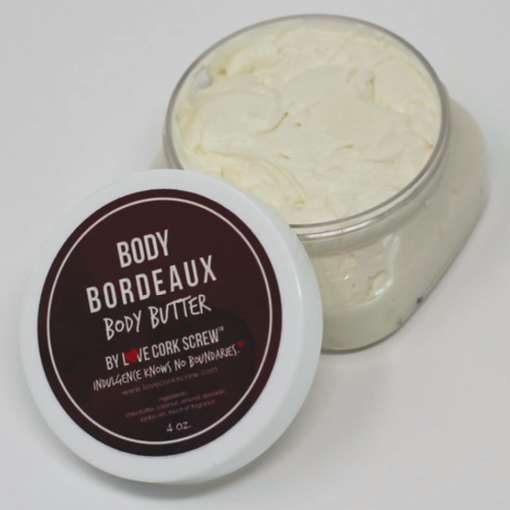 LCS Body Butters
Love Cork Screw introduces its wine-inspired body butter to enhance the five senses. Indulge in this rich and creamy body butter for soft and smooth skin. From Rubbing Rosé to Body Bordeaux, we have fragrances to compliment your Love Cork Screw experience.
Hydrate your skin with our hand whipped, light and luxurious Love Cork Screw Body Butters. This light and airy textured cream is made with Shea butter and other natural oils. Enriched with organic, all-natural, Non-GMO, and humectant properties. Our butters are easily applied and absorb evenly into your skin leaving it feeling moisturized and conditioned. Perfect for dry or rough skin.
Tell us about your business' mission:
Love Cork Screw is a new brand of wine with a sassy yet subtle knack for getting you. We offer novice wine enthusiasts a range of choices for any palate. Indulgence knows no boundaries.
Best thing about your work:
Inspiring people to follow their dreams and never give up by telling my story.
Why are you excited to partner with the YWCA?
We are women that want to empower other women to follow their dreams. What an amazing organization to help do just that.
Love Cork Screw
Contact name
Chrishon Lampley
Email
chrishon@lovecorkscrew.com
Website
Connect on social media
The button below will send you to a YWCA-approved partner shop. Feel free to purchase this offer through their platform knowing that a portion of the proceeds will be donated to YWCA Metropolitan Chicago.
Partner

Collections