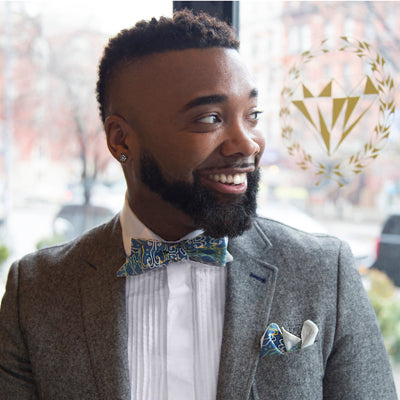 Fashionable Accessories
Ruth Nathan's is a purveyor of fine bow ties, face masks, pocket squares, and lapel flowers made for the Urban Peacock.
ur·ban pea·cock /ˈərbən pēˌkäk / noun
A discerning, stylish individual who dresses from conviction rather than compulsion.
We give our customers an outlet for self-expression through the use of exclusive, custom-designed colors, patterns, and textures for a truly unrivaled look. What makes our products special?
● Premium fabrics
● Authentic self-tie style
● Hand-made (not mass produced)
10% of every purchase using the code below goes to YWCA Metropolitan Chicago! 
Tell us about your business' mission:
Ruth Nathan's Chief Designer, Nicole R. Brown, is a young black woman in the midst of a passionate love affair with all things stately, swanky and dandy. Her fascination with the transformative quality of a well-dressed person propelled her to create the brand—making her the odd duck in an industry largely dominated by male designers. It is her desire that Ruth Nathan's not only make customers look spectacular but feel spectacular as well, positively influencing them to feel better about themselves. It is a known fact that when one dresses well, one feels better—and from an outfit that is well put together, that makes one walk with pride, the Urban Peacock emerges.
Best thing about your work:
Every time a customer wears one of our bow ties, pocket squares or lapel pins, they'll draw the eyes and attention of everyone around them. When you wear a Ruth Nathan's piece, compliments are guaranteed.
Why are you excited to partner with the YWCA?
I most certainly believe in giving back to the community. I was born and raised on the South Side of Chicago and it is only proper to help support other women as I was supported growing up. The YWCA stands for the empowerment, leadership, and rights of women worldwide and so does Ruth Nathan's!
Ruth Nathan's
Contact name
Nicole R. Brown
Email
nicole@ruthnathans.com
Connect on social media
The button below will send you to a YWCA-approved third-party shop. Feel free to shop through their platform.
Use the code
YWCA10
at checkout
Partner

Collections