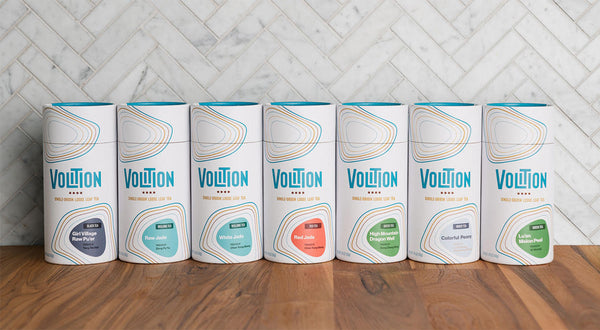 Loose Leaf Teas
All of our loose-leaf teas are sustainably grown, that means no pesticides were used and only homemade or organic fertilizer was used in enriching the soil and the plant. Our teas are good for you and the planet!
White Tea | Colorful Peony (Flavor profile: floral, honey, minty)

Green Tea | High Mountain Dragon Well (Flavor profile: Sugarcane, chestnut, savory)

Wulong Tea | Raw Jade (Flavor profile: milk sugar, orchid, vegetal)

Red Tea | Red Jade (Flavor profile: Baked sweet potatoes, molasses)

Black Tea | Raw Pu'er (Flavor profile: woody, bamboo, malt)

Ceramic Mug with Strainer (Tea mug with built-in strainer for ceramic fans)
Enter "YWCACHI" in the gift messaging section.
Tell us about your business' mission:
Volition Tea wants to take you on an informative journey through the entire value chain to develop a deep understanding and appreciation of tea and the farmers who grow it.
Best thing about your work:
Unlike other traditional tea companies who purposely have been hiding farmers away from the spotlight because of any negative connotations associated with products from China, we are here to celebrate the farmers and proudly showcase our teas made with great love and care for the environment.
Why are you excited to partner with the YWCA?
Volition Tea is built on dreams that we will actively work to eliminate racism by telling the stories of Chinese tea farmers, who for centuries have been hidden in the shadow of imperialism and xenophobia. This closely aligns with YWCA's mission in eliminating racism, and we cannot wait to work with inspiring women leaders and allies in Chicago to do just that!
Volition Tea
Contact name
Annie Xiang
Email
hello@volitiontea.com
Website
Connect on social media
The button below will send you to a YWCA-approved third-party shop. Feel free to shop through
EVERYTHING
on their platform knowing that a portion of the proceeds will be donated to YWCA Metropolitan Chicago.
Partner

Collections