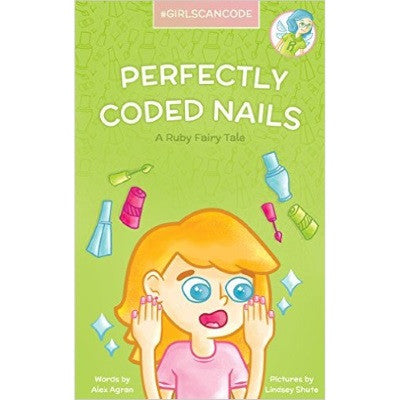 Perfectly Coded Nails: #GirlsCanCode
Allie has had it with trying to paint her nails. Too many drips and drops and too difficult to paint the nails on both hands. POOF! The Ruby Fairy is here to teach Allie how technology and coding gives her the power to paint her nails just right. A Ruby Fairy Tale series capitalizes on the interests of young girls to demonstrate the power of technology and programming.
All profits from sales of this book will be donated to YWCA Metropolitan Chicago's TechGYRLS, a youth empowerment program designed to raise girls' interest, confidence and self-efficacy in the critical areas of science, technology, engineering, arts and mathematics (STEAM).
Tell us about your business' mission:
Alex Agran is a technologist, husband, and father of three. His middle child, daughter Allie, is all things girl: hair, nails, makeup, dresses, dolls, etc. When all other attempts failed to get Allie to explore science and technology, he wrote a book to show her the power of coding in ways in which she can relate.
Best thing about your work:
I thoroughly enjoyed writing Perfectly Coded Nails. Allie now thinks of me as having a "special job", you know, because I'm a published author.
Why are you excited to partner with the YWCA?
What really thrills me is that all proceeds from sales of Perfectly Coded Nails are directly helping girls from some of Chicago's toughest neighborhoods get interested and familiar with technology. Specifically, we donate everything returned to us by the publisher to the YWCA Metropolitan Chicago's TechGYRLS program.
Alex Agran
Contact name
Alex Agran
Connect on social media
The button below will send you to a YWCA-approved third-party shop. Feel free to shop through
EVERYTHING
on their platform knowing that a portion of the proceeds will be donated to YWCA Metropolitan Chicago.
Partner

Collections